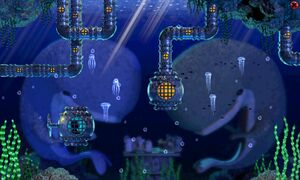 General Information
Edit
  When you enter the area, you come down one pipe and exit to the left, then down the U shaped tube and back up, then finally down into the bell.
Inhabitants
Edit
Smoothie and Phil are here playing chess.  Smoothie says random jokes and gives random items.
Easter Eggs
Edit
Occasionally a submarine, holding a beaver-like figure, shows up; however, it does nothing.