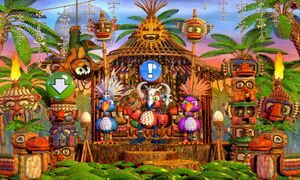 The Tiki Tree is the home of the Tiki birds, and has two sections. The lower half has two plots on either side to either plant a tree or to build structures.  Occasionally a rope on the ground will capture Tyke and pull up him to the top.
Top Section
Edit
The three Tiki Birds will request to trade items here. If you have the items and want to trade, they will continue to trade additional items at random.  If you do not have the item requested or choose not to trade, they will drop you back down.
Sometimes, one of the totem heads (the one on the right) will open and close its mouth.
The sign on the Tiki Birds' tepee resembles a Star Projector.