"𝟎𝟏𝟏𝟎𝟎𝟏 𝟎𝟏𝟎𝟏𝟏𝟎 𝟏𝟏𝟏𝟎𝟎𝟏 𝟏𝟎𝟎𝟏𝟎𝟎 𝟎𝟎𝟏𝟎𝟎𝟎𝟎𝟎𝟎𝟏𝟏𝟎 𝟏𝟏𝟎𝟏𝟎 𝟏𝟏𝟎𝟎𝟏𝟎1"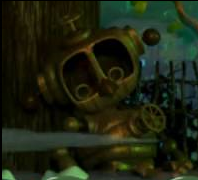 "𝐞𝐧𝐝 𝐦𝐞..." 𝐒𝐚𝐝 𝐓𝐨𝐲-𝐂𝐡𝐢𝐩𝐩𝐞𝐫 & 𝐒𝐨𝐧𝐬 𝐋𝐮𝐦𝐛𝐞𝐫 𝐂𝐨.
The 𝐒𝐚𝐝 𝐓𝐨𝐲 is an interactable character that resembles the "Sad Toy" item. He sits near the Owl's Shop. He will sometimes talk to the player and give him any robotic item. He speaks in binary code and it might mean something like "forgive" and also "end me".