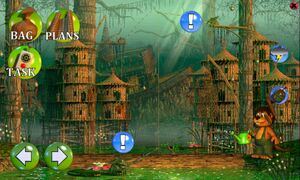 A swamp area with wooden towers around it. There are two Frogs here. One is sitting up a ledge, the other sitting on a lily pad just off center at the bottom.  Both frogs mention Earl frequently, complain about the Tiki Birds, and talk about the Robot Graveyard. They will give the player a random item, typically those that are related to the Tiki Tree, whenever interacted with.
The frog seen at the top right sometimes offers a chance to play The Frog's Quest.
On rare occasions, a ghost version of Earl appears to be jumping in the water.